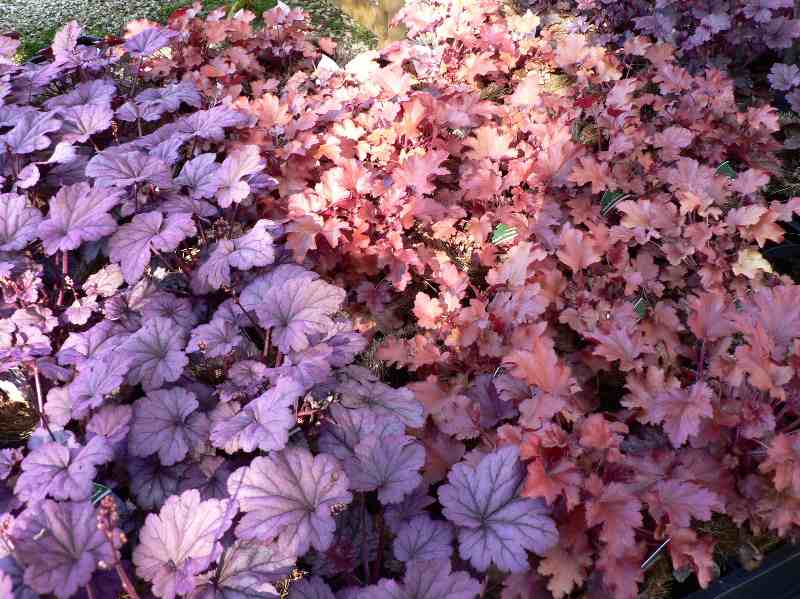 HARDY PLANTS – STOCK LIST APRIL 2020
THIS IS A LIST OF THE HARDY PLANTS – HARDY PERENNIALS – SHRUBS – HARDY PATIO PLANTS - WE HAVE FOR SALE ON THE NURSERIES.
SOME THINGS MAY NOT BE READY FOR SALE OR WE COULD HAVE SOLD OUT BUT IT IS A GOOD GUIDE.
SORRY IT DOESN'T CONTAIN ANY DESCRIPTONS – FOR MORE INFO I SUGGEST YOU COPY AND PASTE FOR INFO AND IMAGES.
PRICES ARE EACH – WE DO OFFER PICK AND MIX DISCOUNTS FOR 10 OR MORE.
ABELIA GRANDIFLORA £7.95
ACHILLEA 'MOONSHINE' £8.95
ACHILLEA NEW VINTAGE RED £6.95
ACHILLEA NEW VINTAGE ROSE £6.95
ACHILLEA NEW VINTAGE WHITE £6.95
ACHILLEA TERRACOTTA £6.95
ACONITUM NAPELLUS ALBUM £8.95
ACTEA BLACK NEGLIGEE £10.95
AGAPANTHUS BLUE TRUMPHATOR £10.95
AGAPANTHUS 'NAVY BLUE' £10.95
AGAPANTHUS BIG BLUE £10.95
AGAPANTHUS BIG WHITE £10.95
AGAPANTHUS BLACK PANTHA £10.95
APAPANTHUS COBALT BLUE £12.75
AGAPANTHUS DR BROUWER £10.95
AGAPANTHUS LAPIS LAZULI £10.95
AGAPANTHUS QUEEN MUM £10.95
AGAPANTHUS SEA CORAL £12.75
AGAPANTHUSSTREAMLINE £8.95
AGAPANTHUS TORBAY £12.75
AGAPANTHUS TOM THUMB £10.95
AGAPANTHUS TWISTER £10.95
AGASTACHE BLUE BOA £6.95
AJUGA CATLIN'S GIANT £3.95
AJUGA CHOCOLATE CHIP £2.75
ALCHEMILLA MOLLIS IRISH SILK £6.95
ALLIUM AMBASSADOR £6.95
ALLIUM GLOBEMASTER £6.95
ALSTROEMERIA INCA SWEETY £6.95
ALSTROEMERIA INCA VITO £6.95
ALSTROEMERIA INDIAN SUMMER £9.95
ALSTROEMERIA INTICANCHA BRYCE £9.95
ALSTROEMERIA INTICANCHA CABANA £9.95
ALSTROEMERIA INTICANCHA INDIGO £9.95
ALSTROEMERIA INTICANCHA MAYA £9.95
ALSTROEMERIA INTICANCHA PASSION £9.95
ALSTROEMERIA INTICANCHA SUNSHINE £9.95
ALSTROEMERIA INTICANCHA WHITE MAGIC £9.95
ALSTROEMERIA SUMMER BREAK £9.95
ALSTROEMERIA SUMMER RED £9.95
ALSTROEMERIA SUMMER SAINT £9.95
ALSTROEMERIA SUMMER SNOW £9.95
AMSONIA TABERNAE MONTANA £2.75
ANACYCLUS SILVER KISSES £2.75
ANCHUSA AZUREA 'LODDON ROYALIST' £12.75
ANCHUSA AZUREA 'OPAL' £12.75
ANEMONE HYB. ANDREA ATKINSON £8.95
ANEMONE HUP. HADSPEN ABUNDANCE £8.95
ANEMONE HYB. HONORINE JOBERT £8.95
ANEMONE HYB. QUEEN CHARLOTTE £8.95
ANEMONE HYB. SEPTEMBER CHARM £8.95
ANEMONE HYB. WHIRLWIND £8.95
ANTHEMIS LEMON ICE £6.95
AQUILEGIA SWAN MIXED £3.95
ARABIS ALABASTER £3.95
ARMERIA BALLERINA LILAC £2.75
ARMERIA BALLERINA RED £2.75
ARMERIA BALLERINA WHITE £2.75
ARMERIA NIFFTY THRIFTY £2.75
ARMERIA RUBRIFOLIA £2.75
ARTEMISIA POWIS CASTLE £8.95
ASTER AMELLUS 'BRILLIANT' £8.95
ASTER AMELLUS 'KING GEORGE' £8.95
ASTER AMELLUS 'ROSA ERFULLUNG' £8.95
ASTER ERICOIDES 'PINK CLOUD' £8.95
ASTER NA. 'BARR'S PURPLE' £8.95
ASTER NA. 'HERBSTSCHNEE' £8.95
ASTER X FRIKARTII 'MONCH' £8.95
ASTILBE BURGUNDY RED £8.95
ASTILBE DELFT LACE £8.95
ASTILBE ELLIE £8.95
ASTRANTIA M. 'GILL RICHARDSON GP' £8.95
ASTRANTIA PINK JOYCE £8.95
ASTRANTIA RED JOYCE £8.95
ASTRANTIA SPARKLING STARS PINK £8.95
ASTRANTIA MAJOR BUCKLAND £8.95
ASTRANTIA MAJOR BURGUNDY MANOR ℗ £8.95
ASTRANTIA MAJOR FLORENCE ℗ £8.95
ASTRANTIA MAJOR SNOW STAR ℗ £8.95
ASTRANTIA MAJOR SUPERSTAR ℗ £8.95
AUBRETIA KATIE BLUE £2.75
AUBRETIA KATIE PURPLE SHADES £2.75
AUBRETIA KATIE RED SHADES £2.75
AUCUBA JAP. PEPPERPOT £8.95
AUCUBA JAP. 'VARIEGATA' £7.95
BAY KITCHEN £2.75
BERGENIA 'BABY DOLL' £8.95
BERGENIA 'OVERTURE' £8.95
BERGENIA 'PINK DRAGONFLY' PBR £8.95
BERGENIA 'SPRING FLING' PBR £8.95
BRUNNERA M. 'BETTY BOWRING' £8.95
BRUNNERA ALEXANDERS GREAT £8.95
BUDDLEJA BUZZ HOT RASPBERRY £8.95
BUDDLEJA BUZZ IVORY £8.95
BUDDLEJA BUZZ SKY BLUE £8.95
BUDDLEJA BLACK KNIGHT £7.95
BUDDLEJA SUNGOLD £7.95
BUDDLEJA WHITE BOUQUET £7.95
CALENDULA POWER DAISY SUNNY £6.95
CALENDULA POWER DAISY TANGO £6.95
CAMPANULA GLOMERATA 'SUPERBA' £8.95
CAMPANULA 'KENT BELLE' £8.95
CAMPANULA L. 'LODDON ANNA' £8.95
CAMPANULA L. 'MONICA'S DREAM' £8.95
CAMPANULA L. 'PRICHARD'S VARIETY' £8.95
CAMPANULA P. 'WORTHAM BELLE' £8.95
CAMPANULA ELIZABETH OLIVER £2.75
CAMPANULA GARDEN STAR £2.75
CAMPANULA LODDON ANNE £8.95
CAMPANULA MRS RESHOLT £2.75
CAMPANULA TAKION BLUE £6.95
CAMPANULA TAKION WHITE £6.95
CAREX BLUE ZINGER £8.95
CAREX EVEREST £8.95
CAREX EVERGOLD £8.95
CAREX EVERILLO £8.95
CAREX TESTACEA £8.95
CATANANCHE CAERULEA £8.95
CATANANCHE CAERULEA 'ALBA' £8.95
CATMINT £2.75
CEANOTHUS TREWITHEN BLUE £10.95
CEANOTHUS SKYLARK £10.95
CEANOTHUS YANKEE POINT £10.95
CENTRANTHUS RUBER COCCINEUS £8.95
CEPHALARIA GIGANTEA £12.75
CERASTIUM TOMENTOSUM £2.75
CHAENOMELES FIRE DANCE £7.95
CHEANOMELES JET TRAIL £7.95
CHAENOMELES PINK LADY £7.95
CHOISYA AZTEC PEARL £7.95
CIRSIUM R. 'ATROPURPUREUM' £8.95
CLEMATIS BOULEVARD ACROPOLIS £9.75
CLEMATIS BOULEVARD BERNADINE £9.75
CLEMATIS BOULEVARD DAIYU £9.75
CLEMATIS BOULEVARD ESME £9.75
CLEMATIS BOULEVARD NIMON £9.75
CLEMATIS BOULEVARD NUBIA £9.75
CLEMATIS BOULEVARD OLYMPIA £9.75
CLEMATIS BOULEVARD YUAN £9.75
CLEMATIS 'BLUE ANGEL' £9.75
CLEMATIS 'JAN PAWEL £9.75
CLEMATIS 'MADAME JULIA CORREVON £9.75
CLEMATIS MONTANA GRANDIFLORA £9.75
C'LEMATIS 'POLISH SPIRIT' £9.75
CLEMATIS 'WARSZAWSKA NIKE £9.75
CLEMATIS MONTANA GRANDIFLORA £9.75
CLEMATIS MONTANA FRAGRANT SPRING £9.75
CONVALLARIA MAJALIS £8.95
CORDYLINE AUSTRALIS £8.95
CORDYLINE PACIFIC SUNRISE £10.95
COREOPSIS 'ASTOLAT' £8.95
COREOPSIS V. 'GOLDEN GAIN' £8.95
COREOPSIS V. 'ZAGREB' £8.95
CORNUS ALBA 'AUREA' £7.95
CORNUS ALBA MIDWINTER FIRE £7.95
CORNUS ALBA 'SIBERIAN PEARLS' £7.95
CORYDALIS BLUE HERON £8.95
CROCOSMIA 'EMBERGLOW' £8.95
CROCOSMIA 'LIMPOPO' £8.95
CROCOSMIA XC. 'GEORGE DAVISON' £8.95
CYMBALARIA MURALIS £2.75
DAHLIA 'CHEERIO' £8.95
DAHLIA 'DAVID HOWARD' £8.95
DAHLIA 'GERRIE HOEK' £8.95
DAHLIA 'MOONFIRE' £8.95
DAHLIA 'PIPER'S PINK' £8.95
DAHLIA 'ROXY' £8.95
DAHLIA 'SARAH' £8.95
DAHLIA 'TWYNING'S AFTER EIGHT' £8.95
DELOSPERMA JEWEL IN DESERT GARNET £2.75
DELOSPERMA JEWEL IN DESERT MOONSTONE £2.75
DELOSPERMA JEWEL IN DESERT OPAL £2.75
DELPHINIUM NEW MILLENNIUM BLUE LACE £6.95
DELPHINIUM NEW MILLENNIUM DOUBLE INNOCENCE £6.95
DELPHINIUM NEW MILLENNIUM DUSKY MAIDENS £6.95
DELPHINIUM NEW MILLENNIUM MORNING LIGHTS £6.95
DELPHINIUM NEW MILLENNIUM PAGAN PURPLES £6.95
DEUTZIA CREN. 'PRIDE OF ROCHESTER' £7.95
DEUTZIA STRAWBERRY FIELDS £7.95
DIANELLA CASSA BLUE £8.95
DIANTHUS SCENT FIRST CANDY FLOSS £6.95
DIANTHUS SCENT FIRST MEMORIES £6.95
DIANTHUS SCENT FIRST PASSION £6.95
DIANTHUS ARCTIC STAR £2.75
DIANTHUS CHERRY BURST £2.75
DIANTHUS BLUSHING STAR £2.75
DIANTHUS FLUTTERBY £2.75
DIANTHUS KAHORI PINK £2.75
DIANTHUS KAHORI SCARLET £2.75
DIANTHUS PEACH KISSES £2.75
DIANTHUS PINK KISSES £2.75
DIANTHUS PURPLE WEDDING £2.75
DIANTHUS WAIKIKI PINK £2.75
DIASCIA BREEZEE PLUS APPLEBLOSSOM £3.50
DIASCIA BREEZEE PLUS APRICOT £3.50
DIASCIA BREEZEE PLUS PINK £3.50
DIASCIA BREEZEE PLUS RED £3.50
DIASCIA BREEZEE PLUS WHITE £3.50
DIERAMA BLACKBERRY BELLS £8.95
DIERAMA BLACKBIRD £8.95
DIERAMA PINK SKYROCKET £8.95
DIERAMA SNOWBELLS £8.95
DIGITALIS F1 DALMATION CREAM £6.95
DIGITALIS F1 DALMATION PEACH £6.95
DIGITALIS F1 DALMATION PURPLE £6.95
DIGITALIS F1 DALMATION ROSE £6.95
DIGITALIS F1 DALMATION WHITE £6.95
DIGITALIS FOXLIGHT PLUM GOLD £6.95
DIGITALIS FOXLIGHT ROSE IVORY £6.95
DIGITALIS FOXLIGHT RUBY GLOW £6.95
DRACOCEPHALUM FUJI BLUE £2.75
DRACOCEPHALUM FUJI WHITE £2.75
ECHINACEA DOUBLE SCOOP CRANBERRY £8.95
ECHINACEA GREEN JEWEL £8.95
ECHINACEA SENSATION PINK £8.95
ECHINACEA SOMBRERO ADOBE ORANGE £8.95
ECHINACEA SOMBRERO BLANCO £8.95
ECHINACEA SOMBRERO LEMON YELLOW £8.95
ECHINACEA SOMBRERO SALSA RED £8.95
ECHINACEA SOMBRERO SANGRITA £8.95
ECHINACEA SOMBRERO TRES AMEGOS £8.95
ECHINACEA SUNSEEKERS SALMON £8.95
ELAEAGNUS EBBINGEI £7.95
EPIMEDIUM PERRALC. 'FROHNLEITEN' £8.95
EPIMEDIUM VERSICOLOR 'SULPHUREUM' £8.95
EPIMEDIUM Y. 'ROSEUM' £8.95
EPIMEDIUM GRANDIFLORUM LILAFREE £7.95
ERIGERON KARVINSKIANUS SEA OF BLOSSOM £2.75
ERIGERON SEA BREEZE £6.75
ERIGERON SEA BREEZE MAUVE £6.95
ERODIUM BISHOPS FORM £2.75
ERODIUM PELARGONIFLORUM £3.95
ERODIUM X VARIABILE ALBUM £2.75
ERODIUM X VARIABILE ROSEUM £2.75
ERYNGIUM B. 'PICOS BLUE' PBR £8.95
ERYNGIUM VARIIFOLIUM £8.95
ERYNGIUM NEPTUNES GOLD £8.95
ERYSIMUM ARTIST MONETS MOMENT £3.95
ERYSIMUM DESERT ISLAND £3.95
ERYSIMUM GOGH'S GOLD £3.95
ERYSIMUM WINTER JOY £3.95
ERYSIMUM BOWLES MAUVE £8.95
EUONYMUS EUROPAEUS 'RED CASCADE' £7.95
EUONYMUS EMERALD GAIETY £6.95
EUONYMUS EMERALD N'GOLD £6.95
EUPATORIUM MACULATUM 'RED DWARF' £8.95
EUPATORIUM R. 'LUCKY MELODY' PBR £8.95
EUPHORBIA A. ROBBIAE £8.95
EUPHORBIA C. MARGERY FISH GROUP £8.95
EUPHORBIA ASCOT RAINBOW £8.95
EUPHORBIA MARTINII £8.95
EUPHORBIA MARTINII RUDOLPH £8.95
EUPHORBIA POLYCHROMA PURPUREA £8.95
FESTUCA ELIJAH BLUE £2.75
FILIPENDULA RUBRA 'VENUSTA' £12.75
FUCHSIA DELTA SARAH £3.95
FUCHSIA DYING EMBERS £3.95
FUCHSIA GARDEN NEWS £3.95
FUCHSIA HAWKSHEAD £3.95
FUCHSIA SILVER LININGS £3.95
FUCHSIA SUNRAY £3.95
GARVINEA SWEET CAROLINE £8.95
GARVINEA SWEET DREAMS £8.95
GAURA KARALEE WHITE £6.95
GAURA ROSYJANE £6.95
GERANIUM 'ANN FOLKARD' £8.95
GERANIUM 'BLUE CLOUD' £8.95
GERANIUM 'BROOKSIDE' £8.95
GERANIUM 'ORION' £8.95
GERANIUM 'ORKNEY CHERRY' PBR £8.95
GERANIUM 'PATRICIA' £8.95
GERANIUM 'PHILIPPE VAPELLE' £8.95
GERANIUM PRATENSE 'LAURA' PBR £8.95
GERANIUM SANGUINEUM 'ANKUM'S PRIDE' £8.95
GERANIUM XR. 'RUSSELL PRICHARD' £8.95
GERANIUM ROZANNE £8.95
GEUM DOUBLE BLAZING SUNSET £6.95
GEUM KOI £8.95
GEUM PINK PETTICOATS £8.95
GEUM SUNRISE £6.95
GEUM TOTALLY TANGERINE £8.95
GYPSOPHILA CERASTOIDES £2.75
HAKONECHLOA SUNFLARE £8.95
HEDERA GOLD £2.75
HEDERA GREEN £2.75
HEDERA SILVER £2.75
HELENIUM 'MOERHEIM BEAUTY' £8.95
HELIANTHEMUM BUNBURY £2.75
HELIANTHEMUM PINK ANGEL £2.75
HELIANTHEMUM THE BRIDE £2.75
HELIANTHEMUM WISLEY PINK £2.75
HELLEBORUS DOUBLE QUEEN MIXED £8.95
HELLEBORUS LADY SERIES £8.95
HEUCHERA FOREVER PURPLE £8.95
HEUCHERA PRIMO BLACK PEARL £8.95
HEUCHERELLA ALABAMA SUNRISE £8.95
HEUCHERELLA LEAPFROG £8.95
HEUCHERELLA REDSTONE FALLS £8.95
HEUCHERELLA SOLAR ECLIPSE £8.95
HEUCHERELLA SWEET TEA £8.95
HEUCHERELLA TAPESTRY £8.95
HOLLYHOCK CHATERS DOUBLE MIXED £6.95
HOLLYHOCK HALO MIXED £6.95
HOSTA 'GUACAMOLE' £8.95
HOSTA 'KROSSA REGAL' £8.95
HOSTA FIRE AND ICE £8.95
HOSTA GOLD STANDARD £8.95
HOSTA MINUTEMAN £8.95
HOSTA PRAIRIE SKY £8.95
HOSTA REMEMBER ME £8.95
HOSTA THE KING £8.95
HOSTA WHIRLWIND £8.95
HYDRANGEA ARBORESCENS 'ANNABELLE' £10.95
HYDRANGEA MACRO. MAGICAL ALLEGRETTO £10.95
HYDRANGEA MACRO. MAGICAL BLOSSOM £10.95
HYDRANGEA MACRO. MAGICAL BLUE BELLS £10.95
HYDRANGEA MACRO. MAGICAL BRIDE £10.95
HYDRANGEA MACRO. MAGICAL CANDY ROCK £10.95
HYDRANGEA MACRO. MAGICAL FLAMENCO £10.95
HYDRANGEA MACRO. MAGICAL RUBYRED £10.95
HYDRANGEA PANICULATA LIMELIGHT £10.95
HYDRANGEA PANICULATA VANILL FRAISE £10.95
HYPERICUM HIDCOTE £7.95
HYPERICUM MOSERIANUM VARIEGATUM £2.75
IBERIS ABSOLUTELY AMETHYST £2.75
IBERIS PINK ICE £2.75
IBERIS SNOWFLAKE £2.75
ILEX ARGENTEA MARGINATA £10.95
ILEX GOLDEN KING £10.95
IMPERATA RED BARON £8.95
INULA MAGNIFICA £12.75
IRIS 'ACTION FRONT' £8.95
IRIS 'ACTRESS' £8.95
IRIS 'BENTON CARAMEL' £8.95
IRIS 'BENTON STORRINGTON' £8.95
IRIS 'BENTON STRATHMORE' £8.95
IRIS 'BLACK SWAN' £8.95
IRIS 'BOLD PRINT' £8.95
IRIS 'CARNABY' £8.95
IRIS 'JANE PHILLIPS' £8.95
IRIS 'LANGPORT WREN' £8.95
IRIS PALLIDA 'ARGENTEA VARIEGATA' £8.95
IRIS 'RAJAH' £8.95
IRIS SIB. 'CAESAR'S BROTHER' £8.95
IRIS 'STEPPING OUT' £8.95
IRIS 'WINTER OLYMPICS' £8.95
ISOTOMA FAIRY CARPET £2.75
JASMINUM OFFICINALE £9.75
KNAUTIA MACEDONICA £8.95
KNIPHOFIA LEMON POPSICLE £8.95
KNIPHOFIA ORANGE VANILLA POPSICLE £8.95
KNIPHOFIA PAPAYA POPSICLE £8.95
KOLKWITZIA AMABILIS 'PINK CLOUD £7.95
LAMIUM PINK CHABLIS £2.75
LAVENDER DEVON COMPACT £2.75
LAVENDER ELLAGANCE SNOW £3.95
LAVENDER HIDCOTE BLUE £3.95
LAVENDER MUNSTEAD £3.95
LAVENDER PROVENCE ANTIBES £2.75
LAVENDER SUPERBLUE £8.95
LEPTINELLA PLATTS BLACK £8.95
LEUCANTHEMUM XS. 'AGLAIA' £8.95
LEUCANTHEMUM XS. 'T.E. KILLIN' £8.95
LEWISIA CONSTANT CORAL £3.95
LEWISIA ELISE £3.95
LEYCESTERIA FORMOSA £7.95
LIBERTIA TAPUPO BLAZE £10.95
LIGULARIA 'BRITT MARIE CRAWFORD'PBR £12.75
LITHODORA GRACE WARD £2.75
LOBELIA XS. 'HADSPEN PURPLE' PBR £8.95
LOBELIA QUEEN VICTORIA £6.95
LONICERA JAPONICA HALLIANA - £9.75
LOROPETALUM CHINENSIS FIRE DANCE £10.95
LUPIN CHANDELIER £6.95
LUPIN NOBLE MAIDEN £6.95
LUPIN THE CHATELAINE £6.95
LUPIN THE GOVERNOR £6.95
LUPIN THE PAGES £6.95
LYCHNIS CORONARIA ATROSANGUINEA GP £8.95
LYCHNIS F.C. 'WHITE ROBIN' £8.95
LYCHNIS MOLTEN LAVA £3.95
LYSIMACHIA GOLDILOCKS £2.75
MACLEAYA 'KELWAYS CORAL PLUME' £12.75
MECONOPSIS LINGHOLM £8.95
MELIANTHUS MAJOR £7.95
MONARDA FIREBALL £8.95
MONARDA PINK SUPREME £8.95
NANDINA DOMESTICA 'FIREPOWER' £12.75
NANDINA DOMESTICA 'LEMON-LIME' £12.75
NANDINA DOMESTICA 'MAGICAL SUNRISE' £12.75
NEPETA GRANDIFLORA 'BRAMDEAN' £8.95
NEPETA RACEMOSA 'WALKER'S LOW' £8.95
NEPETA SIBIRICA £8.95
NEPETA 'SIX HILLS GIANT' £8.95
NEPETA X FAASSENII £8.95
OSTEOSPERMUM IN THE PINK £8.95
OSTEOSPERMUM LADY LEITRIM £8.95
OSTEOSPERMUM SENNEN SUNRISE £8.95
PAEONIA ALEXANDER FLEMING £12.75
PAEONIA BARRINGTON BELLE £12.75
PAEONIA FESTIVA MAXIMA £12.75
PAEONIA HONEY GOLD £12.75
PAEONIA KANSAS £12.75
PAEONIA RED MAGIC £12.75
PAEONIA RENATO £12.75
PAEONIA SARAH BERNHARDT £12.75
PAEONIA SHIRLEY TEMPLE £12.75
PAEONIA SWEET HARMONY £12.75
PAPAVER MOONDANCE £3.95
PAPAVER SPRING FEVER MIXED £3.95
PARAHEBE AVALANCHE £2.75
PARAHEBE PORLOCK £2.75
PENSTEMON PENSHAM AMELIA JANE £8.95
PENSTEMON PENSHAM CZAR £8.95
PENSTEMON PENSHAM ELEANOR YOUNG £8.95
PENSTEMON PENSHAM LAURA £8.95
PENSTEMON PENSHAM PLUM JERKUM £8.95
PENSTEMON PENSHAM WEDDING DAY £8.95
PEROVSKIA 'FILIGRAN' £8.95
PHILADELPHUS BELLE ETOILE £7.95
PHILADELPHUS DAME BLANCHE £7.95
PHILADELPHUS SNOWBELLE £7.95
PHILADELPHUS VIRGINAL £7.95
PHLOX CAROLINA 'MISS LINGARD' £8.95
PHLOX M. 'ALPHA' £8.95
PHLOX P. 'BLUE PARADISE' £8.95
PHLOX P. 'DAVID' £8.95
PHLOX P. 'EVA CULLUM' £8.95
PHLOX P. 'FRANZ SCHUBERT' £8.95
PHLOX P. 'MONICA LYNDEN BELL' £8.95
PHLOX P. 'PRINCE OF ORANGE' £8.95
PHLOX P. 'STARFIRE' £8.95
PHLOX P. 'TENOR' £8.95
PHLOX XA. 'LUC'S LILAC' £8.95
PHLOX BAVARIA £3.95
PHLOX CHATTAHOOCHEE £8.95
PHLOX CLOUDS OF PERFUME £8.95
PHLOX CORAL EYE £3.95
PHLOX MCDANIELS CUSHION £3.95
PHLOX SCARLET FLAME £3.95
PHLOX SUBULATA SPRING LAVENDER £2.75
PHLOX SUBULATA SPRING LIGHT PINK £2.75
PHLOX SUBULATA SPRING PURPLE £2.75
PHLOX SUBULATA SPRING WHITE £2.75
PHORMIUM BLACK VELVET £10.95
PHORMIUM JESTER £10.95
PHORMIUM RAINBOW QUEEN £10.95
PHYGELIUS DEVILS TEARS £8.95
PHYGELIUS MOONRAKER £8.95
PHYSOCARPUS OPULIFOLIUS 'DIABOLO' (PBR) £10.95
PHYSOSTEGIA CRYSTAL PEAK WHITE £6.95
POLEMONIUM 'NORTHERN LIGHTS' £8.95
POLEMONIUM 'STAIRWAY TO HEAVEN' PBR £8.95
POLEMONIUM BRESSINGHAM PURPLE £8.95
POTENTILLA F. ABBOTSWOOD £7.95
POTENTILLA F. 'ELIZABETH' £7.95
POTENTILLA F. RED ROBIN £7.95
POTENTILLA 'GIBSON'S SCARLET' £8.95
POTENTILLA TONGUEI £2.75
PRATIA PEDUNCULATA ALBA £2.75
PRIMULA BEESIANA £8.95
PRIMULA BULLEYANA £8,95
PRIMULA VERIS £3.95
PRIMULA VULGARIS £2.75
PULMONARIA 'BLUE ENSIGN' £8.95
PULMONARIA 'MOONSHINE' PBR £8.95
PULMONARIA S. 'DORA BIELEFELD' £8.95
PULSATILLA PINWHEEL RED SHADES £2.75
PULSATILLA PINWHEEL VIOLET SHADES £2.75
PULSATILLA PINWHEEL WHITE £2.75
RHODANTHEMUM AFRICAN ROSE £2.75
RHODANTHEMUM AFRICAN SPRING £2.75
RIBES ELKINGTONS WHITE £8.95
RIBES KING EDWARD VII £7.95
RODGERSIA BRONZE PEACOCK £8.95
ROSEMARY OFFICINALIS ARP £6.95
ROSEMARY PROSTRATUS BOULE £6.95
RUBUS ROSIFOLIUS 'CORONARIUS £7.95
RUDBECKIA LACINIATA 'HERBSTSONNE' £12.75
RUDBECKIA FULGIDA DEAMII £8.95
RUDBECKIA LITTLE GOLD STAR £8.95
RUDBECKIA TRILOBA PRAIRIE GLOW £6.95
SAGINA SUBULATA VAR. GLABRATA AUREA £2.75
SALVIA AMETHYST LIPS £6.95
SALVIA BLUE BY YOU £6.95
SALVIA BLUE MARVEL £6.95
SALVIA CARADONNA £6.95
SALVIA CHERRY LIPS £6.95
SALVIA HOT LIPS £6.95
SALVIA LYRICAL WHITE £6.95
SALVIA RADIO RED £6.95
SALVIA ROSE MARVEL £6.95
SALVIA SALVATORE BLUE £6.95
SALVIA SAN CARLOS FESTIVAL £6.95
SALVIA SKY BLUE MARVEL £6.95
SAMBUCUS BLACK LACE £10.95
SANTOLINA INCANA (CHAMAECYPARISSUS) £8.95
SANTOLINA LEMON FIZZ £2.75
SAPONARIA BRESSINGHAM PINK £2.75
SARCOCOCCA RUSCIFOLIA £10.95
SAXIFRAGA FLEECE £2.75
SAXIFRAGA ROCCO RED £2.75
SCABIOSA MARIPOSA BLUE £6.95
SCABIOSA FLUTTER ROSE PINK £6.95
SCABIOSA FLUTTER WHITE £6.95
SCILLA PERUVIANA £9.95
SEDUM CAPE BLANCO £2.75
SEDUM CHOCOLATE BALL £2.75
SEDUM DRAGONS BLOOD £2.75
SEDUM KAMTSCHATICUM £2.75
SEDUM PACYCLAUDOS £2.75
SEDUM YELLOW CUSHION £2.75
SEDUM DARK MAGIC £8.95
SEDUM HOT STUFF £8.95
SEDUM 'INDIAN CHIEF' £8.95
SEDUM SPECTABILE 'ICEBERG' £8.95
SEMPERVIVUM ARACHNOIDEUM RUBIN £2.75
SEMPERVIVUM JOVIBARBA ALLIONII £2.75
SEMPERVIVUM RUBY HEART £2.75
SEMPERVIVUM STAR SIRIUS £2.75
SEMPERVIVUM TECTORUM RUBIN £2.75
SILENE DRUETTS VARIEGATED £2.75
SISYRINCHIUM STRIATUM £8.95
SOLIDAGO 'LEDSHAM' £8.95
SPIRAEA JAPONICA 'ANTHONY WATERER' £7.95
SPIRAEA JAPONICA 'GOLDFLAME' £7.95
SPIRAEA JAONICA SHIROBANA £7.95
SPIRAEA SNOWMOUND £7.95
STACHYS MONIERI HUMMELO £6.95
STACHYS SILVER CARPET £6.95
STEPHANADRA INCISA CRISPA £8.95
STIPA ARUNDINACEA £8.95
STIPA GIGANTEA £8.95
STIPA TENUISSIMA £8.95
SYRINGA CHINENSIS SAUGEANA £10.95
SYRINGA × HYACINTHIFLORA 'ESTHER STALEY' £10.95
SYRINGA PATULA 'MISS KIM' £10.95
SYRINGA VULGARIS MADAME LEMOINE' £10.95
THALICTRUM THUNDERCLOUD £7.95
THALICTRUM BLUE STOCKINGS £7.95
THALICTRUM SPLENDID WHITE £7.95
THYMUS COMMON £2.75
THYMUS DOONE VALLEY £2.75
TIARELLA PINK SKYROCKET £8.95
TRASESCANTIA BLUE N'GOLD £8.95
TRICYRTIS F. STOLONIFERA GROUP £8.95
TRIFOLIUM ANGEL BEAUTY £2.75
TRIFOLIUM ANGEL CHOCOLATE £2.75
TRIFOLIUM ANGEL MARRIAGE £2.75
TRIFOLIUM ANGEL ONYX £2.75
TROLLIUS CHINENSIS 'GOLDEN QUEEN' £8.95
TROLLIUS X CULTORUM 'NEW MOON' £8.95
VERBASCUM CHAIXII 'ALBUM' £8.95
VERBASCUM 'COTSWOLD QUEEN' £8.95
VERBASCUM 'FIREDANCE' PBR £8.95
VERBASCUM 'GAINSBOROUGH' £8.95
VERBASCUM 'PINK DOMINO' £8.95
VERBENA BONARIENSIS £6.95
VERONICA IONIAN SKIES £2.75
VERONICA OXFORD BLUE £2.75
VERONICA SPODE BLUE £2.75
VERONICA MOODY BLUES DARK BLUE £6.95
VERONICA MOODY BLUES SKY BLUE £6.95
VERONICA MOODY BLUES WHITE £6.95
VERONICA RED FOX £6.95
VERONICASTRUM V. 'LAVENDELTURM' £8.95
VERONICASTRUM V. 'PINK GLOW' £8.95
VIBURNUM BODNANTENSE DAWN £7.95
VIBURNUM SARGENTII 'ONONDAGA' £7.95
VIBURNUM OPULUS ROSEUM £7.95
VINCA MINOR 'GERTRUDE JEKYLL' £8.95
VIOLA ETAIN £3.95
VIOLA REBECCA £3.95
WEIGELA 'BRISTOL RUBY' £7.95
WEIGELA BRISTOL SNOW £7.95
WEIGELA FLORIDA 'VICTORIA' £7.95
ZAUSCHNERIA CALIFORNICA GLASNEVIN £2.75